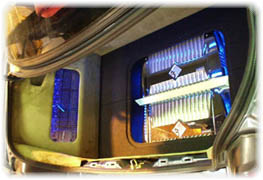 This is my current plaything, while we decide what to do next. The car lends itself to a nice system, being a large coupe. What you see here is the 3rd system installation, where we've updated large portions of the car.
The system was build by Speaker Works in Orange, CA. Since 1989, I've wanted Speaker Works to build a car for me. In 1999, I finally bought a car that would hold USD Audio WaveGuides. In 2000, the car begin its journey toward the installation you see now.
The car is very retro in certain respects--Horn Load Compression Drivers, analog equalizers and an AP sub-enclosure are all techniques that we no longer see in use much. However, the car has incredible dynamics, power to spare and fulfills a dream of mine.
What I've been doing lately...
It's been a bad year for car audio projects--I haven't done very much. I'm trying to get back into the swing of things, but I've done that before, too. Anyway, the main goals for right now are to (1) finish up the '36 Chevy project (and get some pictures up here) and (2) revise Nicola's Sunfire for real competition.